A quick personal note: this year I finally found an endocrinologist who listened, and I was diagnosed with hypothyroidism. Although my blood levels of TSH (thyroid stimulating hormone) were technically within the normal range, the more I read about hypo the more I saw I fit the profile. Because of well-meaning but clueless medical professionals who not only failed to note the entire cluster of my hypothyroid symptoms, but rigidly relied on the TSH lab test, I was proclaimed "normal".
But here's the symptoms I had and the explanations I used to rationalize them away in parentheses. If you are curious about your own situation, check out this website,
Stop the Thyroid Madness
, for a complete list of possible symptoms.
Foggy thinking (Just complex issues at work, I must not be very smart)
Inability to lose weight (Despite enormous calorie output via BJJ/the gym)
Always gaining weight (if I ate more than 1000 calories a day no matter how much I worked out)
Inability to get pregnant; miscarriages (I'm just too old)
Swelling/edema/puffiness (Ate too many carbs, salt, didn't work out enough)
Broken/peeling fingernails (BJJ)
Dry skin (BJJ)
No appetite (working out all the time)
Low body temperature
Low blood pressure
Headaches and migraines
Cold fingers and feet all the time
Losing hair (BJJ)
Anyway-- I found a great doctor here in Austin and she listened. I'm on a very low dose of Synthroid and it's made ALL THE DIFFERENCE. And this means I can eat... CHEESECAKE.
Coconut-Lime Cheesecake with Mango Coulis, to be precise. But don't stop reading if you're not a cook. There's a whole new topic, some Texas-bashing, after the recipe-- so keep going.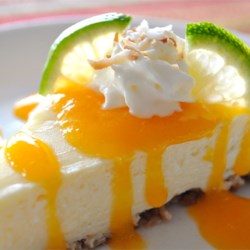 INGREDIENTS:
3/4 cup sweetened flaked coconut
3/4 cup crushed gingersnap cookies
3 tablespoons melted butter
2 (8 ounce) packages cream cheese, softened
1 (10 ounce) can sweetened condensed milk
2 eggs
1 tablespoon lime zest
2 tablespoons lime juice
green food coloring (optional)
1 tablespoon coconut extract
2 cups cubed fresh mango
1 teaspoon white sugar, or more to taste depending on the ripeness of the mango
DIRECTIONS:
1.
Preheat oven to 325 degrees F. Lightly grease a 9-inch springform pan.
2.
Combine the coconut, gingersnap cookies, and melted butter in a bowl; mix until evenly moistened. Press the cookie mixture into the bottom and slightly up the sides of the prepared pan.
3.
Bake the crust in the preheated oven until browned and set, about 10 minutes. Set aside to cool.
4.
Reduce oven heat to 300 degrees F.
5.
Beat the softened cream cheese in mixer bowl until smooth. With beater set to medium-low, slowly pour the condensed milk into the bowl, mixing only until just blended, stopping to scrape the sides of the bowl as necessary. Add the eggs, individually, allowing the first to blend into the mixture before adding the second; again, scrape the sides of the bowl as necessary.
6.
Pour about half of the cream cheese batter into a separate bowl. Stir the lime juice and lime zest (and a few drops of green food coloring if you want a bicolored cheesecake) into the portion in the new bowl; pour the batter over the crust in the springform pan, smoothing into an even layer.
7.
Stir the coconut extract through the remaining cream cheese batter; pour over the lime-flavored batter in the springfom pan, smoothing into an even layer.
8.
Bake in the preheated oven until the top of the cheesecake springs back when gently pressed, about 45 minutes. Turn oven heat off, but leave cheesecake inside with oven door slightly ajar until the oven cools completely. Refrigerate until completely chilled.
9.
Prepare mango coulis by pureeing the mango with sugar until smooth. If too thick, add a teaspoon of water at a time, using just enough to make pourable. Drizzle over cheesecake when plated.
And... the Texas bashing. Lately I'm pretty down on Texas. The Texas legislators who keep screwing women over, to be specific. Check my facebook post about the new bill proposed, to ban abortion after a fetal heartbeat is heard (fyi, totally unconstitutional, and stupid, heartbeat is heard at 6 weeks. GAH.) And I also hate Rick Perry, one of the stupidest individuals in office since... oh goodness, he's up with Sarah Palin and Bush and Cuccinelli, the Virginia AG who is running for governor and wants to ban oral sex....
So watch this, it's freakin' hilarious. (This is the safe-for-work version.)